To make it easy, we've already set up an email for you to send. Just fill out the information on the left and they'll get the email you see below.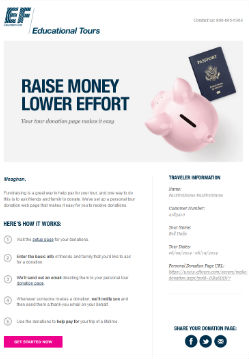 Tour donations are the perfect holiday gift
Your tour donation page makes it easy for friends and family to give you the perfect gift this holiday season—the gift of travel. To help you get the word out about your page, simply enter the names and email addresses of friends and family that you'd like to ask for a donation. We'll send out an email directing them to your personal tour donation page. Whenever someone makes a donation, we'll notify you and send them a thank-you email on your behalf.